I know how.
Without a face to aim his glare, the correction was thrown like a spray of sharp knives. Yet even the immensity of his ire was diminished by the vast expanse of the Gap stretched endlessly in all directions. Here, it was difficult to hold the heat of emotion, and he allowed himself to drift among the celestial tapestry of stars. And then, amidst the cosmic abyss, he beheld it—a stairway that transcended the darkness. The steps seemed to be imbued with a crimson hue, as if blood dripped down like ethereal mist, defying all reason and possibility. Among the flow formed shapes that he almost took for flower petals until they morphed back into the mist. There were no railings, and its path disappeared far ahead, beyond the boundaries of Adrian's perception, leaving him in wonder of its destination for he had certainly never beheld its like before now.
In this part of the dream realm, Adrian lacked a tangible form, yet an undeniable sense of self guided him. He knew, instinctively, that he stood at the foot of the stairs, though it defied logic. Against all his inner questions, he focused his will upon the staircase, and to his astonishment, his legs manifested, carrying him to rest upon the first step. As he gazed at his own hands, he bore no surprise to find flesh and bone, accepting this surreal metamorphosis with the ease of one born to the journey.
However, when he turned his attention back to the Gap from whence he had emerged, he witnessed the full splendor of billions of stars, each embodying a soul drifting in blissful oblivion. The allure of these innumerable souls, almost within arm's reach, tempted him to cradle their radiant light within his grasp. The vista was one he knew well, as was the strength of their allure, but he was about to cross into a realm beyond which he'd never explored previously. And so, with focused determination, he made a decision—to turn away from the Gap of Infinity and ascend the stairs. He wondered if Nimeda's shape would suddenly manifest as his had, and he held the passage open for her to do so if she desired.
As Adrian ascended, leaving behind the engulfing abyss of the Gap, his surroundings transformed. Gradually, the darkness waned, replaced by a subtle luminescence that swathed the stairway. The crimson hue of the steps transmuted into a soft, radiant glow, guiding him further into another realm.
With each step he took, the cosmic vista above expanded, as though the very fabric of the universe unfurled before him. The stars that once twinkled in the distant expanse now seemed to draw nearer and larger, swirling and dancing with celestial splendor. He felt as though he were walking amidst galaxies, their grandeur almost beyond mortal comprehension.
The once intangible void around him metamorphosed into a breathtaking astral landscape. Waves of cosmic light cascaded like ethereal waterfalls, creating an otherworldly sky that resonated through every fiber of his being. Nebulas and constellations painted the dome of this realm with their vibrant hues, and he was utterly transfixed upon them.
As Adrian reached the zenith of the stairs, he found himself standing before an enormous gate. It was an unimaginable size, whose highest peaks blended into the celestial dome above. The structure seemed to be forged from an impossible blend of stardust and precious metals unknown to mortal man but what might only be imagined. The gate was sealed and he could not see what lay beyond, but he sensed the archway to be a portal to another plane of the dream. He could feel the power beyond, and it called to him so strongly it may as well have been singing his name.
Adrian's chest tightened with anticipation, knowing that crossing this threshold would forever alter the course of his existence. Yet as he approached, he realized that the gate was locked. He frowned and pressed his will upon the gate that it should open, which was when at that moment, a column lifted up out of the floor between himself and the gate. Upon the column was perched a squat little statue that Adrian took for some sort of hairy gargoyle. It seemed utterly frozen in time, but the material out of which it was made looked so real, it seemed as if it was designed that way.  Despite the initial aversion the statue invoked, an inexplicable curiosity tugged, compelling him to draw near. He reached out to touch it.
"You're an ugly bastard,"
he said then immediately retracted his hand when it suddenly opened its eyes. The statue was suddenly animated into some sort of creature. It was squat and thick. It had a human-shaped head but for large, pointy ears with a button nose and a mouth lined with perpetual frown lines. Its body was covered completely in a layer of long fur that waved as it unfurled itself. It looked like the result if Yoda and the Grinch had a baby, and it
really
was an ugly little beast.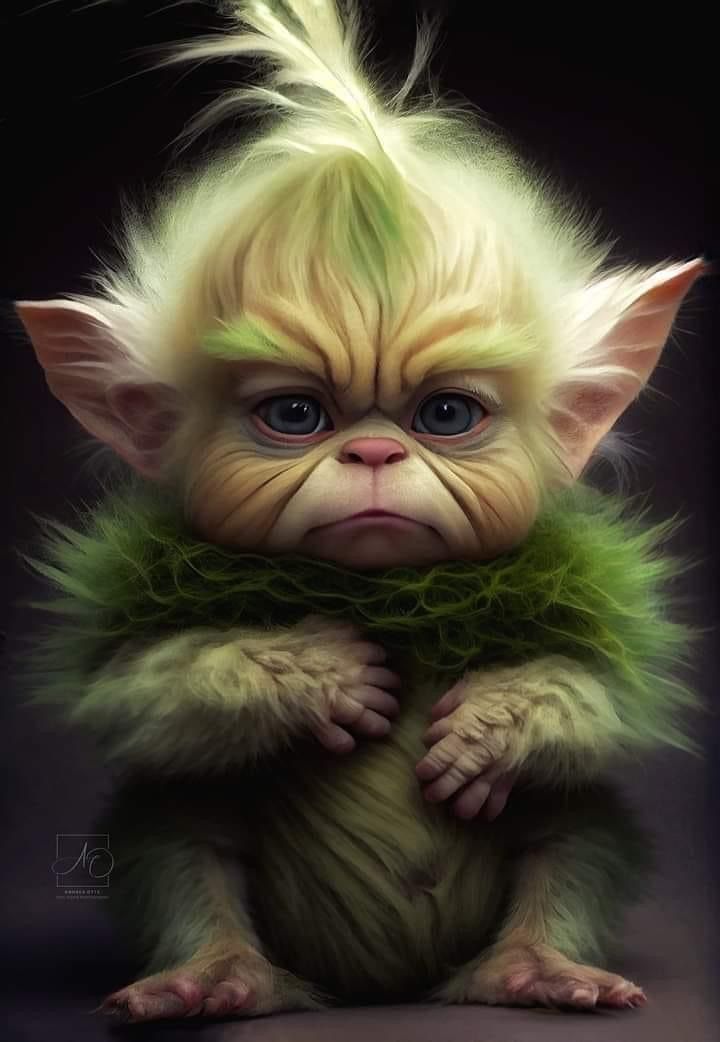 "What the hell are you?"
Adrian asked, slightly concerned and slightly disturbed.
Its voice was raspy and dry.
"My name is Gorinthian."
It stated the parameter as quickly as Adrian had with Nimeda, like sharing that fact was important to establish early.
Adrian blinked like he might be hallucinating if it weren't for this being a dream,
"You speak?"
"Of course I speak,"
and it grumbled like it was offended.
"Gor-inth-ian?"
Adrian repeated the name. It crossed its little arms and nodded in the affirmative.
"

How

are you alive?"
he added.
"I'm not sure 'alive' is the right word. I sleep until you have need of me. Until then, I am as I am now."
"Where did you come from?"
"I am as I have always been."
"Since when?"
"Since you made me."
"I do not remember making you."
"That does not mean it did not happen."
Adrian ran his eyes up and down the creature. It was about three feet tall while fully standing. It moved like its joints needed oil, but after it shook out its head and fluffed up its fur which came to long tufts at the tip of its ears, it hopped rather nimbly from its pedestal and looked up at him expectantly. The column sank back into the ground out of which it arose once Gorinthian vacated the spot. Adrian remained unmoving, so it harrumphed and moved toward the gate ahead.
Adrian was confused and called out after it:
"Were you a mistake?"
It glanced back over its shoulder, looking him up and down,
"Aren't you a rude one

this time

. Humph. Well, come on then. Don't suppose you have your key with you? No, I wager not. I'll open the gate."
Gorinthian wobbled up to the middle, put his palm against the surface and after a moment, the doors parted as if pulled open from the inside. Adrian was drawn through the opening as though he was walking home. On the other side, his mouth dropped with utter speechlessness. 
At his feet, Gorinthian peered upon the realm without any sense of wonder, though he looked up at his master to witness this time-untold moment of rediscovery.