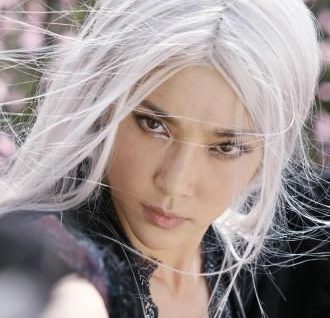 Asha'man
Jai Asad Kojima
|
Gaidar

Trista Alquin
Sand sprayed stinging nettles. It stuck to the sweat drenching his face and chest. There wasn't time to swipe his eyes. The flash of a sword crashed too close to his neck that time. Jai rolled toward the harder packed sand, but his knee sank into a collapsing pit. He flung his own blade upward, in frantic defense. Their blades connected, and the force of it threw him off balance. He twisted his arm, holding the sword high in the air as it could go seconds before sea foam crashed up his nose.
Coughing and sputtering, he tried to get up without dunking his sword in sea water, which rumor said was kind of hard on beautiful blades, power-wrought or otherwise. At the very least he'd have to rebind the grip and what a bloody annoying chore that was. Rather than push up, a point poked hard into his back. Grumbling, he flattened out, defeated. At least the surf felt good. Every pore on his skin sweat, shirtless and shoeless as he was. The pants were soaking through with each wave. He was going to have to dry them off with
saidin
later. Walking around in salt-dried clothes was torture.
Meantime, his arm was on fire holding the sword up out of the surf.
"For bloody sake, take the sword, would you?!"
Water sprayed from his lips as he sputtered between seafoam.
After a moment, the weight was gone. A woman's voice answered.
"I assume you are yielding."
"Never!"
he jested, but Jai didn't really need to yield.
Saidin
would make quick work to turn the tide of their battle. He squirmed, but the voice responded, harder, swifter, just as the pressure on his back increased.
"Don't try it,

Asha'man

."
"I bloody yield you blight-forsaken trolloc,"
he grumbled. The point on his back retreated and Jai rolled over. Surf crashed into the top of his hair. Above, a silhouette blocked the bright Domani sun. At least she was perfectly positioned to shade his eyes. Until she seemed to realize the favor she was doing and stepped aside to offer a hand up.
He grabbed it, thinking about yanking her down with him, but knowing that she was the current master of a sword he really didn't want to see tossed into the ocean, he just took the hand with a grin.
"Double or nothing makes you owe me ten gold,"
she said.
As she returned the sword to its owner, he checked it carefully for damage. The blade was perfect, barely without a scratch. It was curved slightly in the style of his ancestors and the style he grew accustomed to as a young man. The wrappings were taut. The etch of his initials near the guard
JK
caught the sunlight. He smothered a sigh of relief and responded.
"Blood and bloody ashes, Trista, it's not like I have it on me. Come on, admit I mean more to you than a payday."
The silver-haired
gaidar
only lifted one slender silver eyebrow. She started to walk away as Jai swat at the sand sticking his chest and stomach. The horrifying scar remained as obvious as ever. Though Trista didn't so much as blink the first time he peeled his clothes to the waist.
"See you tomorrow?!"
he called after her. She simply grabbed her boots on the way and began the long trek back. Rocky cliffs met sand at a steep angle. There would be no way up for at least a mile back. Jai smirked and once he was sure Trista was mostly out of sight – not that she would be scandalized – he stripped of the wet pants and tossed them where his coat and other belongings waited. The sword was laid atop, far from the sea foam.
It was on another beach near here where he once chucked shorts to the sand and threw himself to the wild waters. He smiled a moment to himself, wondering what she was doing that very moment. Then, with a deep breath, he walked into the water and dove head-first into the only place that resembled paradise on earth.
Only darkness shows you the light.